Gasketing Flange Sealants (Anaerobic)
It replaces paper for flange sealing, compressed face, fiber, cork gaskets, solid gaskets, and solvent-based sealants and has excellent sealing performance.
Feature
100% completely sealed to prevent corrosion due to no penetration of external environment

Seals most industrial fluids

It can reduce the machining work, and it has sufficient function with tolerance and roughness.

It can prevent loosening and rust of bolt which can be caused by external shock or vibration.

Easy inventory management

No re-torque required

Exceptional flexibility

Easy disassembly and A / S when necessary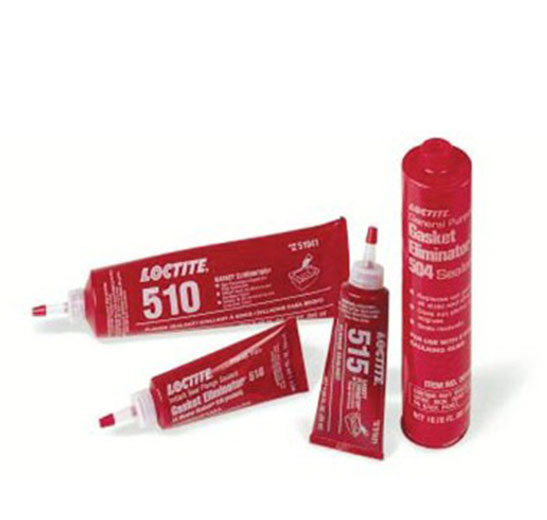 APPLICATION
When sealing of various industrial flange parts such as automobile, heavy equipment, ship, machinery is required
What is Anaerobic Adhesive?
It is a product that dislikes air. It starts to  harden as air is blocked by metal-to-metal contact.
Loctite's anaerobic product is 100% solids and hardened by chemical reaction from the contact surface by anaerobic initiator.
Product Number
510
515
518
573
574
5128
FMD-127
Features
Heat resistance
Universal
Aluminum flange portion
When relaxed assembly
required
Fast hardening
For application
of robot
When flexibility of the
flange is required
Colour
Red
Purple
Red
Light green
Orange
Red
Blue
Allowable gap (mm)
Primer
appliance
0.50
1.27
1.27
0.50
0.50
0.50
0.50
Primer
non appliance
0.25
0.25
0.25
0.25
0.25
0.25
0.25
Viscosity (cp)
188,000/500,000
Thixotropic
275,000/950,000
Thixotropic
800,000/500,000
Thixotropic
188,000/3,750,000
Thixotropic
30,000/100,000
Thixotropic
140,000/580,000
Thixotropic
150,000/350,000
Thixotropic
Δshear strength
(steel,Kgf/㎠)
217
217
217
217
260
177
177
Service temperature range
-54℃ ~204℃
-54℃ ~150℃
-54℃ ~150℃
-54℃ ~150℃
-54℃ ~150℃
-54℃ ~150℃
-54℃ ~150℃
Fixture Time
2hours
1hours
30min
24hours
30min
20sec
2hours
Cure Time
24 hours
24 hours
24 hours
72 hours
24 hours
24 hours
24 hours
Primer
N
N
N
N
N or T
N
N or T