Until now, mechanical methods have made it difficult to overcome severe vibrations, shocks, external environmental conditions and tremendous mechanical stress.
Loctite Threadlocker is a product that seals and fixes by chemical method in place of mechanical methods such as lock washer, spring washer, ninlong ring and pin when assembling various threaded parts.
Feature
No screw loosening even with severe vibration or impact

Exceptional sealing performance ensures no corrosion or abrasion of the screws in harsh environments

Provides constant lubrication and torque

Excellent chemical resistance and durability

Disassemble possible when it necessary

Economical because there is no need to use expensive fasteners



APPLICATION
Powertrain, plug fixing for sealing of various fluids

Fixture of b

olts, nuts and studs for various automobile parts and modules.
PRE-APPLIED THREADLOCKERS
Loctite offers a wide range of products such as Dri-Loc, Pre-applied, Anti Seize and Dri-Plastic .. for bonding and sealing of screws and piping.
These products are pre-coatled to the threads before assembly, and are innovative products that do not require
the use of sealing agents or adhesives at all during assembly.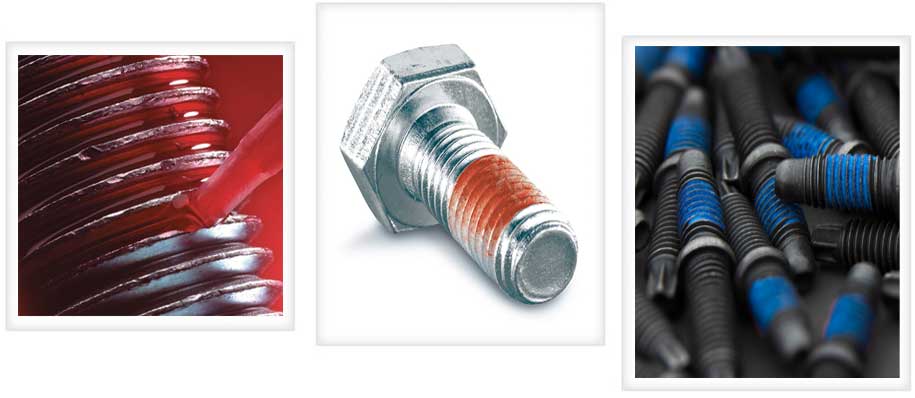 Product Number
222
242
243
262
271
272
277
290
Application
Low-strength small screw
Medium strength,
Thread to be disassembled
Medium-high strength,
Oil-bearing screw
Medium-high strength,
Everlasting fixed screw
High strength
High strength,
Heat-resistant
screw
High strength
Medium-high strength,
Assembled screw
Colour
Purple
Blue
Blue
Red
Red
Red
Red
Green
Viscosity (cp)
1,200/5,000
Thixotropic
1,100/5,000
Thixotropic
2,250/12,000
Thixotropic
1,800/5,000
Thixotropic
500
9,500
7,000
12
Failure / Pull-out torque
(kg f · cm)
3/8"-16 phosphate
Steel bolt · nut
61/35
132/61
207/81
219/316
265/368
230/253
316/316
98/288
Service temperature range
-54℃~150℃
-54℃~150℃
-54℃~150℃
-54℃~150℃
-54℃~150℃
-54℃~232℃
-54℃~150℃
-54℃~150℃
Fixture Time
20 sec.
10 sec.
10 sec.
10 sec.
10 sec.
10 sec.
30 sec.
20 sec.
Cure Time
24 hours
24 hours
24 hours
24 hours
24 hours
24 hours
24 hours
24 hours