The product that replaces original screw, riveting, clip works which satisfies the demand of other shearing, sealing, splitting resistance from shock, mechanical stress of various industries' demands is rock tight structural adhesive.
FEATURE
2 liquid type No mix type, No need to be mixed beforehand.
Possible cost reduction through reduce weight of products
Provide excellent adhesiveness and high strength
Provide excellent splitting resistance
Most are possible to use at industrial materials
High level of shock, heat, environmental, solvent resistance
Can be substitution of locally welding
Possible to use at painted and oiled parts.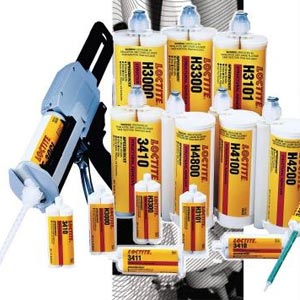 APPLICATION
Very effective at parts that is difficult to stick and demands high adhesive strength
Outside signs, various advertisements, doors of trains, roof of cars, front part of trucks etc.
EQUIPMENT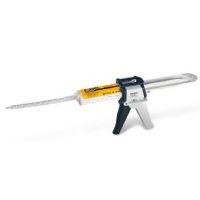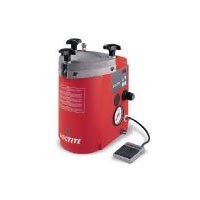 PROPERTIES CHART
Anaerobic base
Acrylic base
PRODUCT
321
324
325
326
330
332
392
3032
APPLICATION
hardening,
sticks to metal materials
shock resistance, sticks to metal and glass
environmental resistance,
sticks to metal
general purpose hardening, sticks to metal and magnet
rough side/
porous adhesive
heat resistance,
heat resistance
hardening,
sticks to magnet
difficult adhesion material
such as PA, PP HDPE, LDFE and general plastics, metals
Colour
Amber
Amber
dark brown
Amber
Amber
Amber
Amber
off-white
Allowable gap (mm)
0.076
1.0
1.0
0.51
0.76
0.51
0.6
-
Viscosity(cp)
1,000
17,000
20,000
18,000
67,500
75,000
/130,000
6,500
/17,500

main chemical 15,000
hardener3,000
Shear Strength(Kgf)
207
241
152
241
228
207
172
134(pp)
Service
temperature
range(℃)
-54 ~ 150
-54 ~ 150
-54 ~ 150
-54~120
-54~120
-54~200
-54~120
-54 ~ 80
Fixture Time
30sec
5min
5min
1min
5min
5min
1min
10min
Cure Time (°C)
24hours
24hours
24hours
24hours
24hours
24hours
24hours
24hours
Primer
736
7075
7075
7649
7387
or 7380
7387
or 7380
7387
or 7380
2 liquid type
Ordering information
PRODUCT
312
324
325
326
330
332
392
3032
25ml Kit
50ml Bottle
o
o
o
o
1Liter Bottle
o
o
o
o
o
o
o
300ml Cartridge
o
o
o
490ml Dual
Cartridge
o
Product Approvals and Specifications
| Product | 312 | 324 | 325 | 326 | 330 | 332 | 392 | 3032 |
| --- | --- | --- | --- | --- | --- | --- | --- | --- |
| CFIA | | | | | o | | | |